Meeting at the usual spot: (at the bottom of Walton Lane, Leeds Road, Nelson).  For Saturday runs itinerary see table below. Wednesdays at 7.00pm (usual spot again)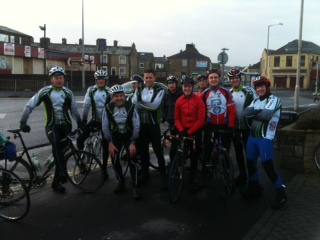 OPEN EVENTS
Training Ride
Tuesday night 6:30pm from the Blue Elephant, Foulridge
Club members and invited riders only.  Approx 25-30 miles fast pace, rules for the ride below. (This ride has now concluded for the Winter but will start back up in Spring 2018)
All riders must obey the rules of the road i.e. must stop at red lights, must give way to traffic already on a roundabout and no more than two abreast.
No more than twelve riders in any one group.
Ride in a single line, with the front rider peeling off to the left after his/her turn at the front, the single line overtakes on the right.  Length of turn to suit fitness level but as a guide no more than 30 seconds.
It is not a race so riders should not be at maximum effort – if necessary split the groups in accordance with fitness level.
PF members ride together and non-members form their own group.  PFCC cannot be held responsible for the behaviour of non-members.
Social Run
Wednesday evenings leave  Walton Lane, 7pm (prompt) for a ride at social pace 13/14 mph around 25 miles. Usually wind up at the Lord Rodney, Colne at about 9pm for a beer or two. Lights are required.
Evening League
Thursday evening time trial series. See Evening League page.
Track Session
Thursday evening track session at the Steven Burke Sports Hub 7 – 8pm.  There is a small charge of £2.00.
Thursday Night Crits at the Steven Burke Hub
Please click on the British Cycling logo below for more information on the Thursday night crits.



Saturday Run
See the list below for destinations. Most runs leave Walton Lane at the time shown (prompt) however on occasion we will drive to a different meet point to get on some different roads. Average speeds tend to be around 15mph.
Saturday Runs List
| Date | Destination | Time | Distance |
| --- | --- | --- | --- |
| Impromptu | ? | 9:30 am | ? |
| 6th Jan 2108 | New Year 100 - Fleetwood | 9:00 am | 100 |
| 13th Jan 2018 | Buffers - Storiths | 9:30 am | 55 |
| 20th Jan 2018 | Feizor via Langcliffe | 9:30 am | 60 |
| 27th Jan 2018 | Ribchester | 9:30 am | 55 |
| 3rd Feb 2018 | Otley via Wetherspoons | 9:30 am | 60 |
| 10th Feb 2018 | Hebden Bridge and Blackstone Edge | 9:30 am | 55 |
| 17th Feb 2018 | Light Ash via Beacon Fell | 9:30 am | 70 |
| 24th Feb 2018 | Burnsall via Cringles | 9:30 am | 60 |
| 3rd March 2018 | Circuit of Ingleborough Reccy | 9:30 am | 75 |
| 10th March 2018 | Circuit of Ingleborough (HELP need marshalls) | N/A | N/A |
| 17th March 2018 | Horrocks Curiosity Shop via St Michaels on Wyre | 9:30 am | 75 |
| 24th March 2018 | Vehicle Assist Run - Howgills and Kirkstone Pass ()Meet Devils Bridge | 9:00 am | 80 |