Pendle Forest Circuit Of Ingleborough. 27 mile Hilly TT on L271. 18/03/2023.
Course and Conditions
Promoted by Pendle Forest Cycling Club, the Circuit of Ingleborough is one of the more challenging hilly time trials. The start sets the theme for the entire course – there is no gentle warmup, instead an immediate climb from the start to the first summit at Cold Cotes: 330ft of ascent in just 1.2 miles. From there a gradual descent ending in a series of technically challenging bends leading into Clapham village. A brief spell on the A65 presents a constant succession of rises and falls before another big climb to Buck Haw Brow. The fast descent to Settle brings a brief respite from climbing before the left turn onto the second stage, the long pull up to Ribblehead. A total ascent of 550ft but with frequent sharp climbs followed by fast twisting descents, this section is a major challenge. A progression of small villages and hamlets marks the journey: Langcliffe, Stainforth, Helwith Bridge, Horton-in-Ribblesdale, Selside and finally Ribblehead and the last major climb: the tough pull up past the Station Inn to the highest part of the course at 1070ft. Another plunging descent through Chapel-le-Dale leads to the rolling section up to White Scar Cave – a seemingly endless progression of false summits before the real one and the last short downhill section to the finish just before Ingleton.
The day was unusually warm, at around 10°C, quite different from the chilly conditions of the last three weekends. Rain was threatened but held off for all but the last 5 or so finishers who were treated to a downpour of ferocious intensity. The wind was modest and from the south making the Settle-Ribblehead section a little easier than usual but presenting a definite headwind on the final section.
The course records stand at 59:21 (James Gullen, 2017) and 1:12:23 (Karen Steele, 2000).
Other noteworthy performances in recent years are:
1:00:52 Tejvan Pettinger 2015
1:00:58 Ben Stead 2021
1:01:17 Gethin Butler 1998
1:12:54 Yvonne McGregor 1998.
1:14:03 Christina Wiejak 2020
Results – Men
The overall win in the men's competition went to Benjamin Goodfellow with an impressive time of 1:01:03 beating that of Gethin Butler set in 1998 and falling just short of the 1:00:52 set in 2015 by National Hill Climb chamption Tejvan Pettinger and 1:00:58 by Ben Stead in 2021.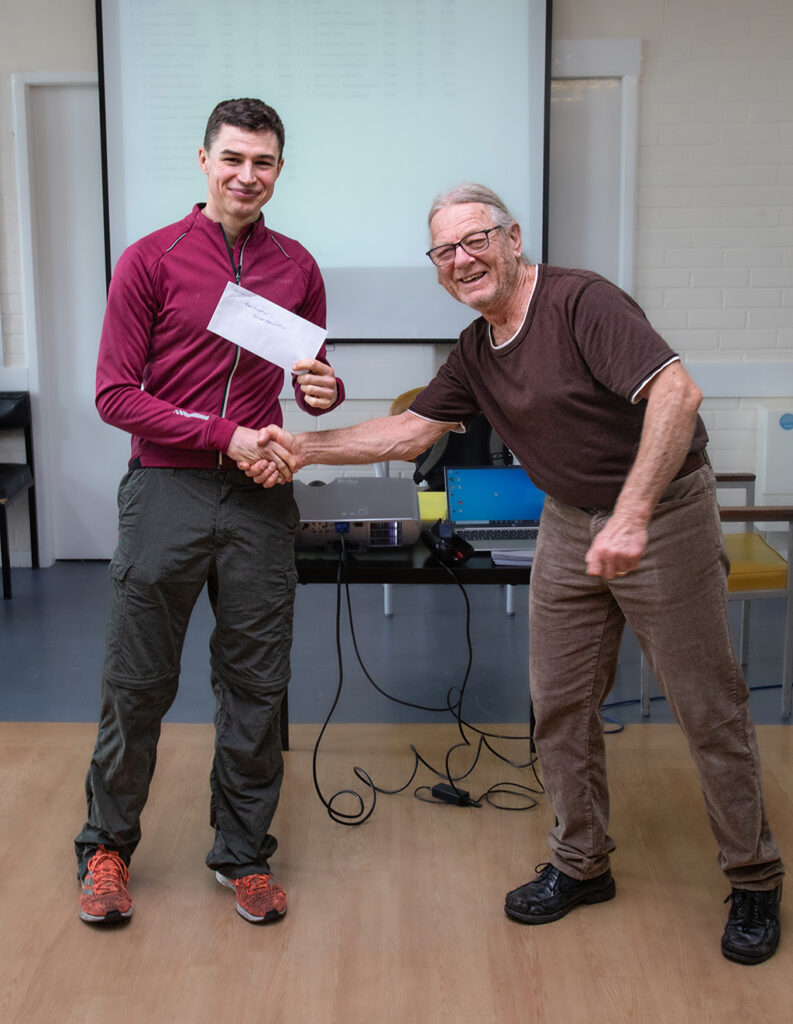 | Position | Time | Name | Club | Category |
| --- | --- | --- | --- | --- |
| 1 | 1:01:03 | Benjamin Goodfellow | Fibrax Wrexham RC | Senior |
| 2 | 1:04:57 | Richard Bideau | Pendle Forest CC | V50 |
| 3 | 1:08:54 | Edward Moss | Giant-Kendal-Sidas | Espoir |
| 4 | 1:09:32 | Graham Pearse | ADDFORM Vive Le Velo | V40 |
Men. Overall classification.
Results – Women
Overall winner of the women's competition was Laura Tring in 1:22:47.
| Position | Time | Name | Club | Category |
| --- | --- | --- | --- | --- |
| 1 | 1:22:47 | Laura Tring | 360 Cycling | Senior |
| 2 | 1:27:28 | Sue Cheetham | North Lancs RC | V50 |
| 3 | 1:31:19 | Gill Arnett | Otley CC | V40 |
| 4 | 1:32:13 | Nicola Cadwallader | 360 Cycling | V40 |
Women. Overall classifification.
Results – Team
Pendle Forest retain their status as team champions on Ingleborough with their third team win of 2023. This weekend it was Bideau-Braithwaite-Harvey, two weeks ago Bideau-Harvey-Braithwaite. With Luke Greenwood very close behind, a very interesting competition is developing.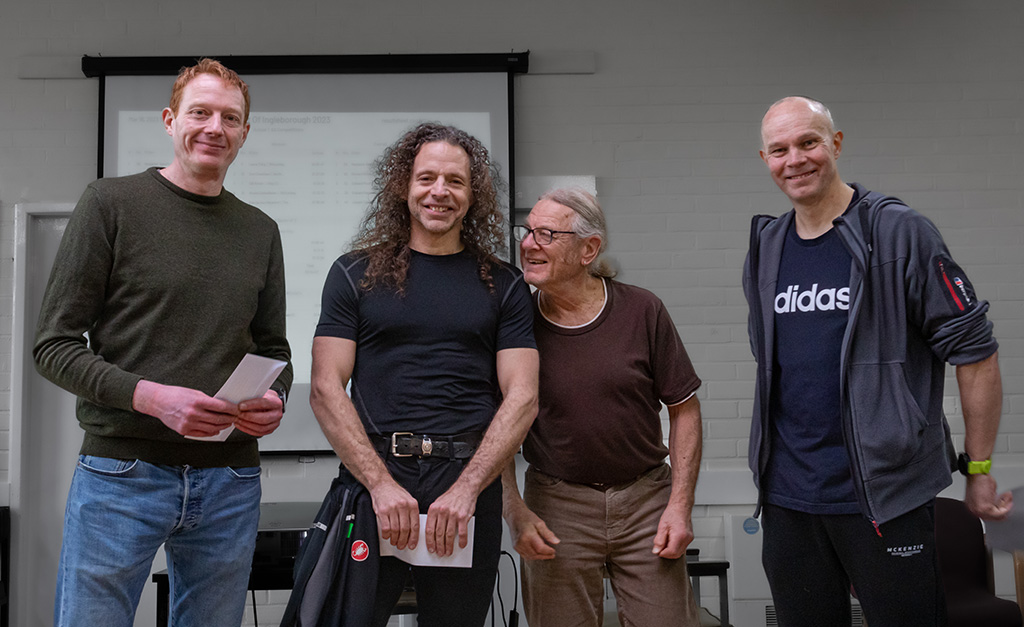 | Position | Time | Name | Category |
| --- | --- | --- | --- |
| 2 | 1:04:57 | Richard Bideau | V50 |
| 7 | 1:10:03 | Paul Braithwaite | V40 |
| 8 | 1:10:59 | Darren Harvey | V40 |
Fastest team of three.
Results Update – Team
Results checking show that Luke Greenwood was faster than Darren Harvey! An update is required! The team win now goes to Bideau-Braithwaite-Greenwood.
| Position | Time | Name | Category |
| --- | --- | --- | --- |
| 2 | 1:04:57 | Richard Bideau | V50 |
| 7 | 1:10:03 | Paul Braithwaite | V40 |
| 8 | 1:10:13 | Luke Greenwood | Sen |
Fastest team of three.
Results – Pendle Forest
There was a excellent turnout from the promoting club: 8 riders from PF.
| Position | Time | Name | Category |
| --- | --- | --- | --- |
| 2 | 1:04:57 | Richard Bideau | V50 |
| 7 | 1:10:03 | Paul Braithwaite | V40 |
| 8 | 1:10:13 | Luke Greenwood | Sen |
| 9 | 1:10:59 | Darren Harvey | V40 |
| 16 | 1:13:08 | Jack Thomas | Sen |
| 18 | 1:13:27 | Matthew Kayley | V40 |
| 20 | 1:13:50 | Russell Marsden | V50 |
| 28 | 1:18:57 | Martin Welsh | V60 |
Presentation Images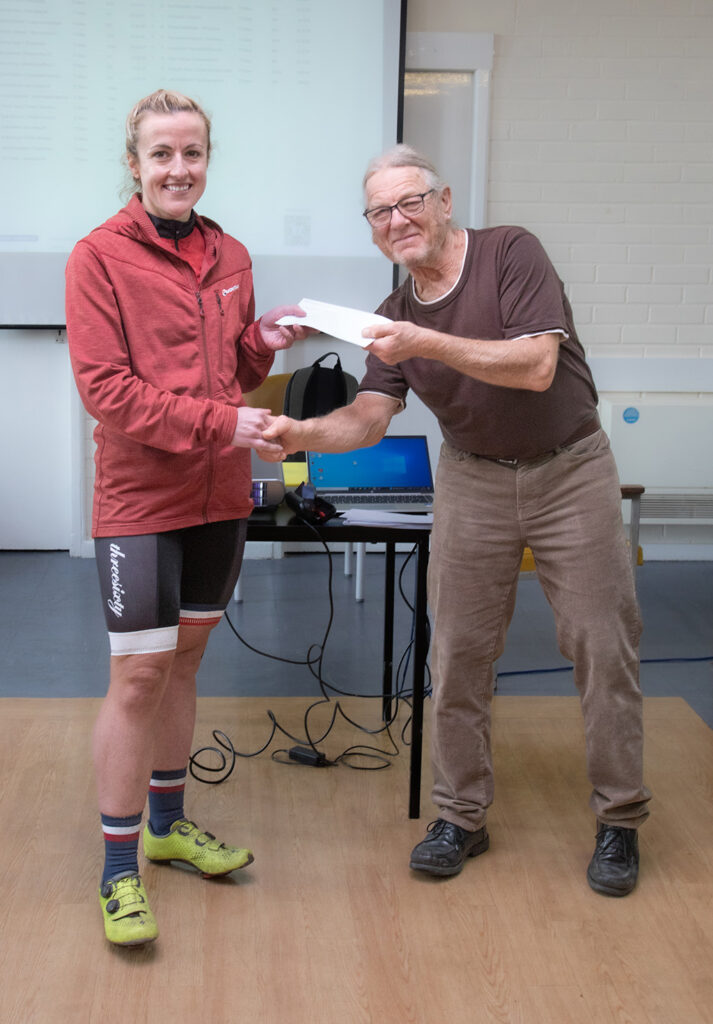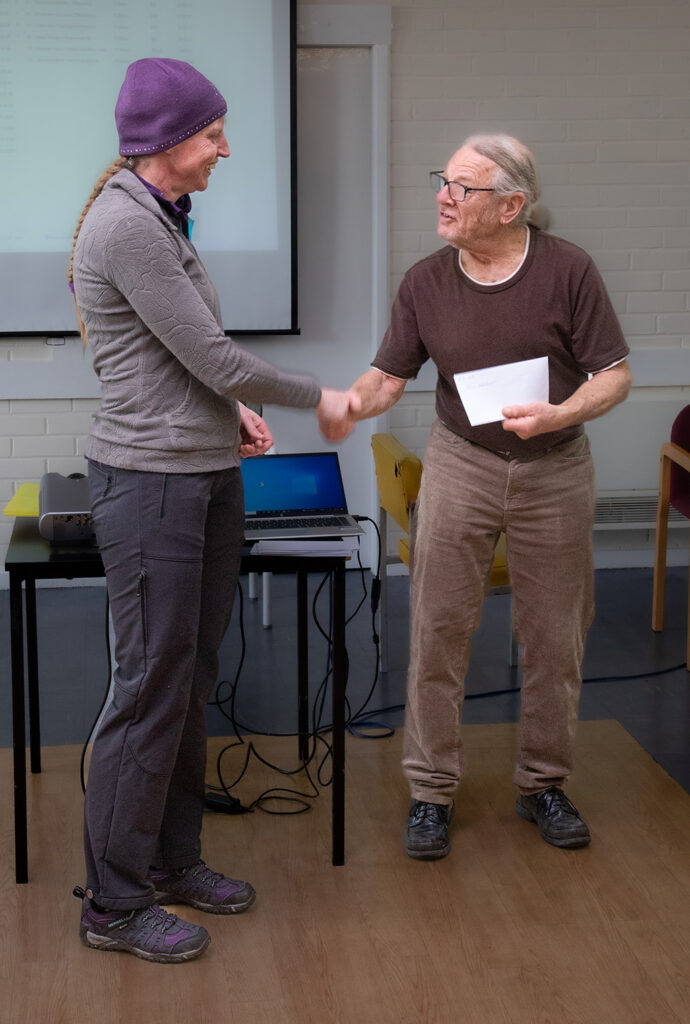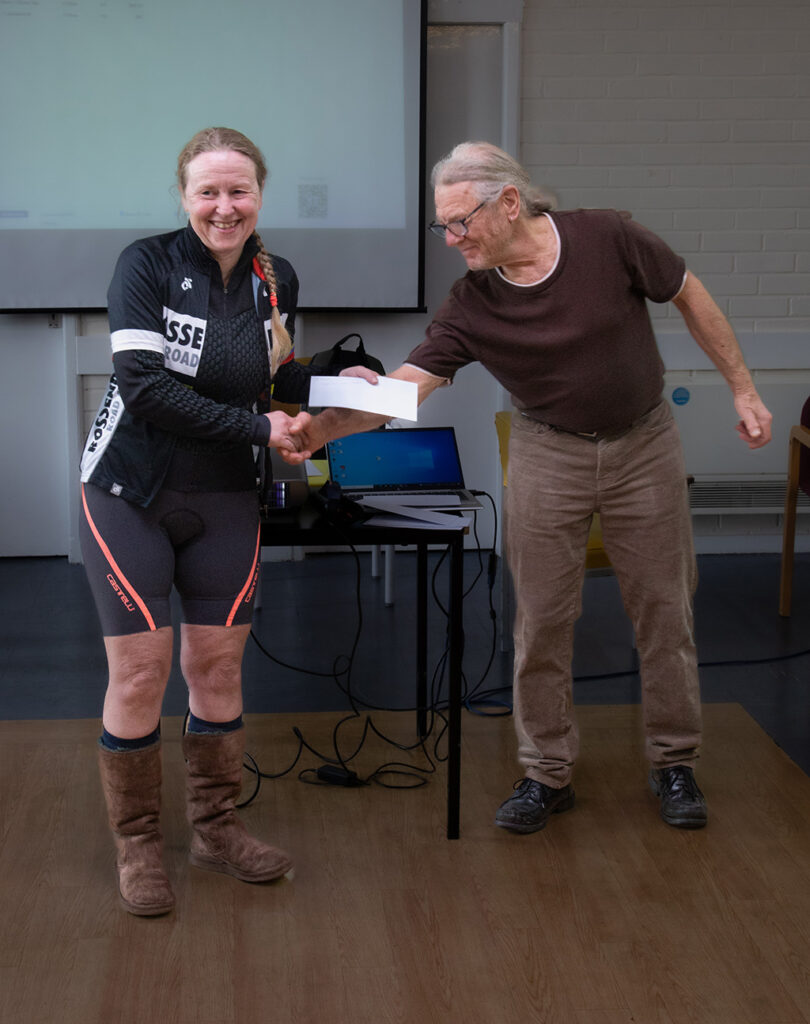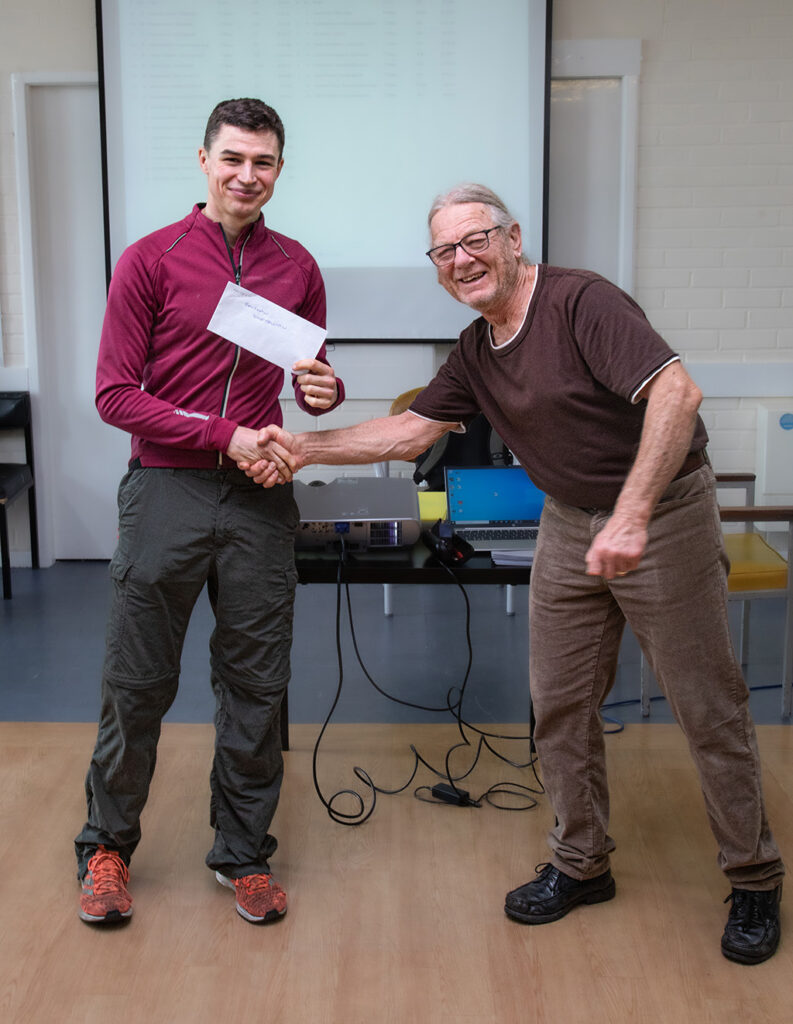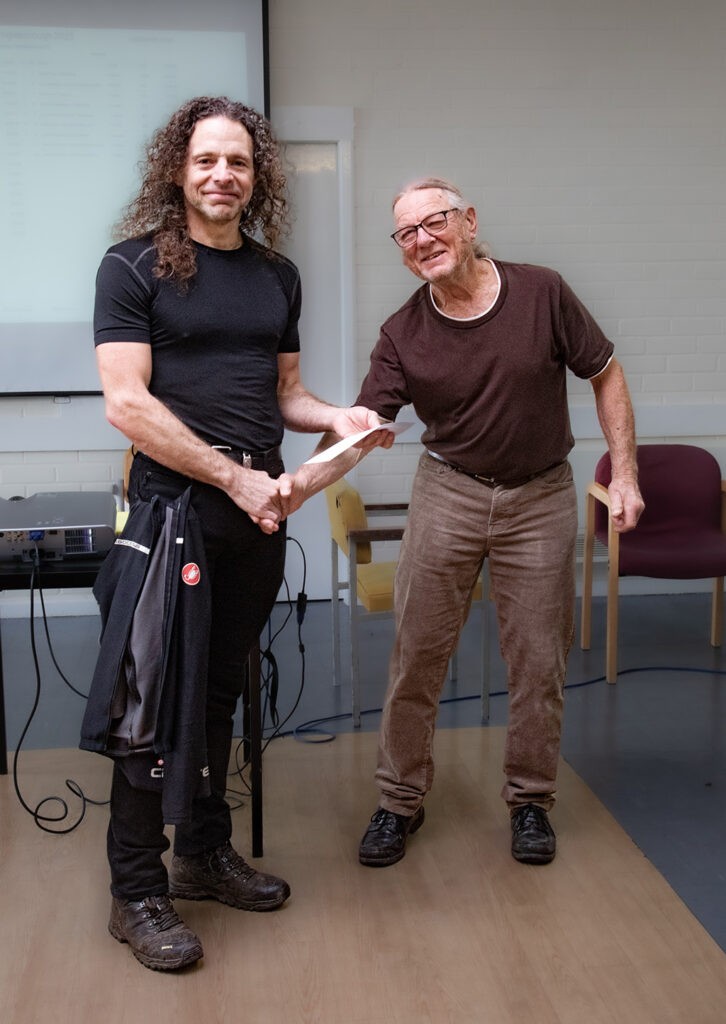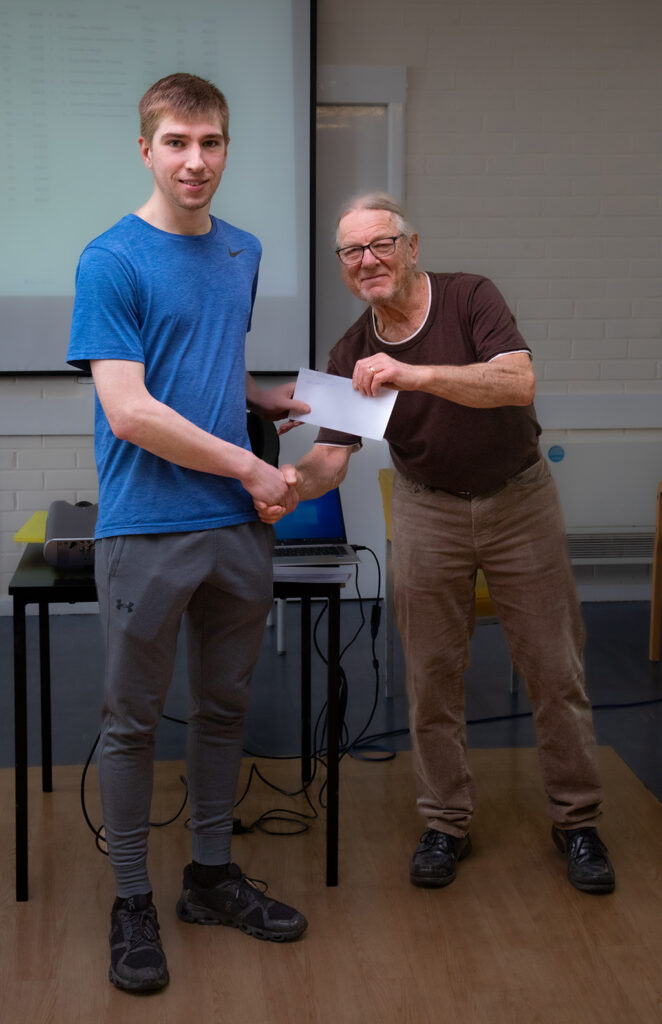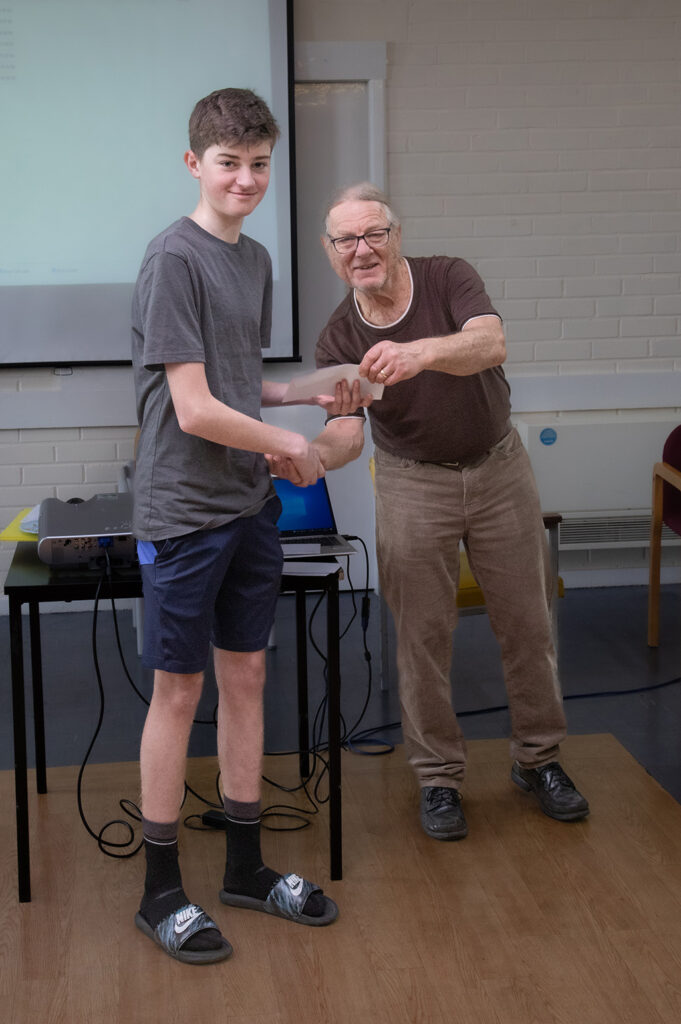 Organiser Presentation
The end of an era was marked with a presentation to Danny Davies and Harry Waddington. Danny is stepping down as organiser after many years in the role. Harry Waddington has also given many years stalwart service on the results board – patiently sorting through the numbers while anxious riders away the verdict on their performances.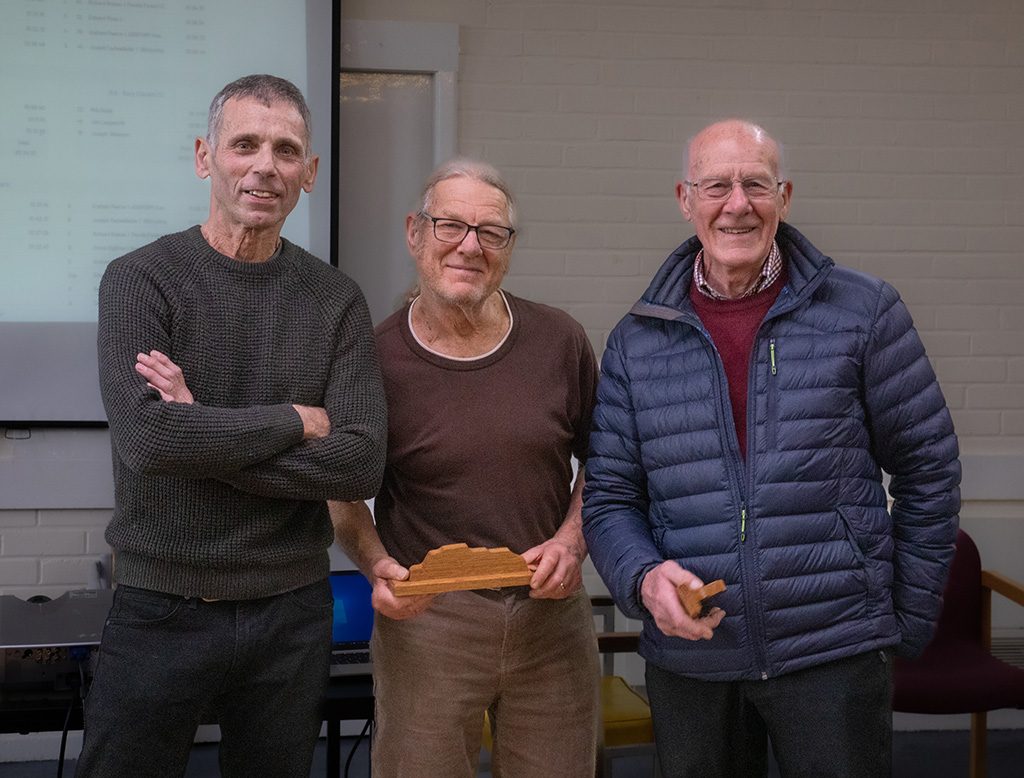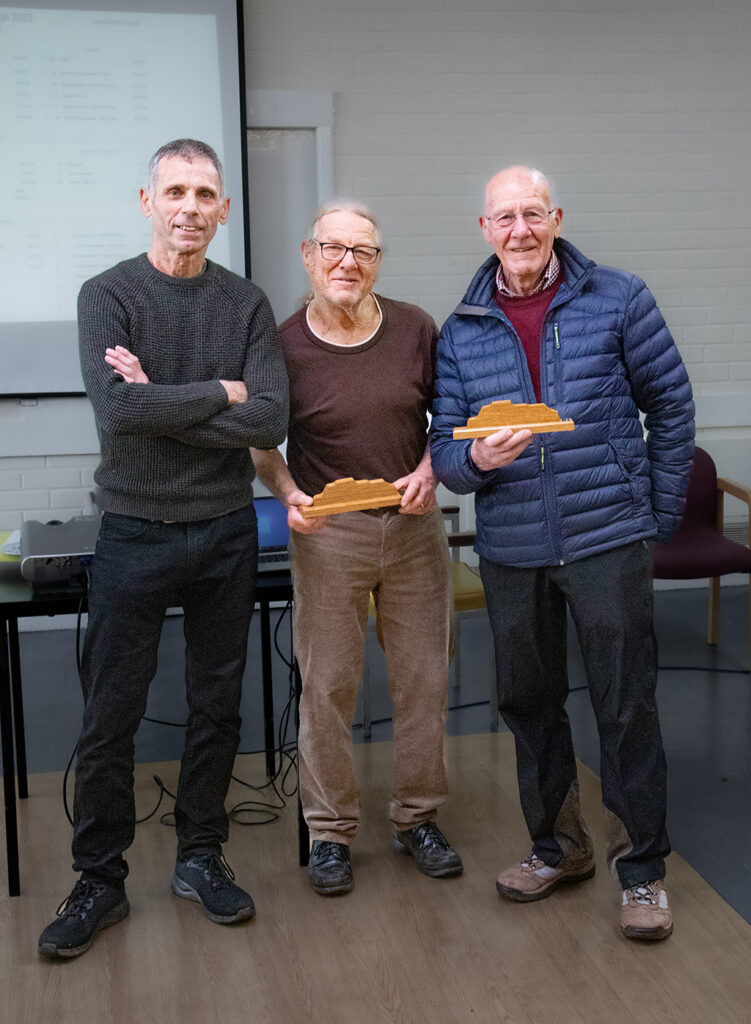 On a personal note, I would like to thank Danny and Ellen for making Ingleborough so special. Well do I remember my first ride in 2015 when time trialling was new to me and I waited shivering on the start line, thrilled to be racing against the legendary Tejvan Pettinger. I shall be taking over from Danny as organiser in 2024 and I know I can rely on my friends in Pendle Forest to help make sure I don't make too many mistakes.
Ingleborough 2015
To make up for my mistake with Harry/Graham in my first version, here is the real Graham Waddington. Taken after my first Ingleborough ride in 2015…
Links
Kimroy Photography – official CTT coverage
Tejvan Pettinger's race report from 2014.
Race Report
By Richard Bideau.
As I reached the start, at the bottom of the fearsome first climb, I paused and looked upward at the prospect now clear of the early morning grey. On this, my eight and final ride, my thoughts turned back to 2015 and my first. I had been here before.
Those words, a near-plagiarism of Waugh and 'Brideshead', sum up Ingleborough for me. Not so much about riding a bike, rather an experience combining pain, suffering, achievement, satisfaction, despair and friendship. A lot to pack into a cycle race! Ingleborough is not just another time trial, no short ten up and down a straight section of road, it is hard, very hard, and set in scenery possessed of stark grandeur. Ingleborough was my first major open event and that, combined with it being promoted by my own club, Pendle Forest, makes it rather special. Though riding Ingleborough may be over for me, I shall be promoting the event in 2024, taking over from Danny Davies.
Mawkish sentiment dispensed with, I'll get on with the race report…
Key to winning the mental battle in a time trial is not thinking too far ahead. Waiting at the Ingleborough start, this is not a problem, the first climb is the immediate concern, the rest not even on the agenda. And so, I was pleasantly surprised to find myself, a little over four and half minutes later at the Cold Cotes summit feeling quite good and trying to look impressive for the first photographer, Brian Jones.
Downwards to Clapham, I paced well, keeping the power up but resisting the temptation to use it wastefully on the fast section. There is always an element of chance in a time trial, luck plays its part. Today, in Clapham it was against me, I had to take it slowly behind a van and bus.
Onto the A65 and free from obstruction, it began to get tough. The next goal was the turn off to Buck Haw Brow. Finally it came and with it some relief from the steady grind –the short steep section was a welcome change. Over the summit and the fast plunge downward to Settle brought relief. Again, I resisted the temptation to put any power out, a marked contrast to my inexperienced 2015 ride when I hammered down every descent under full power.
The left turn at Settle is a key moment. The section to Ribblehead is very exposed and wind speed and direction make a big difference. Today the wind didn't seem to be a factor, certainly no headwind, but not much assistance either.
The first climb took its toll. Langcliffe and my world was transformed. I was feeling awful – power delivery seemed unsustainable and not even half the distance covered, worse, the very strong possibility of a headwind finish from Ribblehead. Negative thoughts took over. Why was I doing this to myself yet again?
Stainforth and no improvement – the power was still there but it didn't feel like it would last much longer. Helwith Bridge with its fast approach and challenging right hand bend were past and the section to Horton finally brought some change. A tailwind finally! The fast flat section felt good – I was back in it mentally.
Horton-in-Ribblesdale past and onto the exposed section where a succession of short rises and fast descents present a continuous challenge. It feels like chaos, constant gear changing, in and out of the saddle and still plenty of miles remaining. Raymond Bracewell was positioned at the top of one particularly nasty rise – the shot with Pen-y-ghent in the background looks superb. As for me, I was nearly spent – no hope of looking good this time.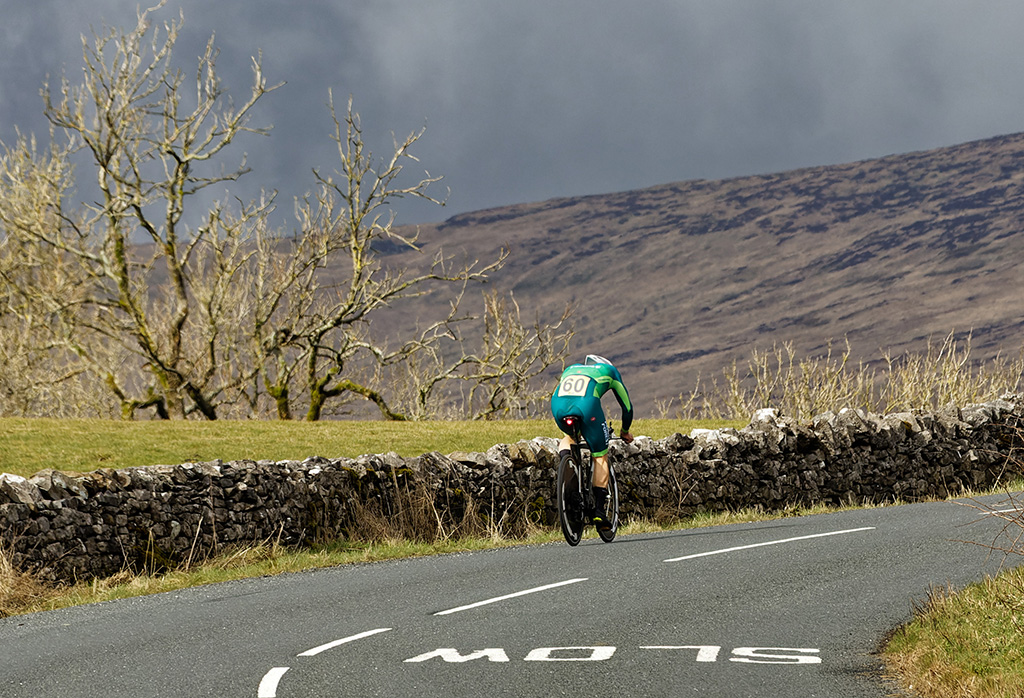 Selside, almost at Ribblehead. I hadn't cracked yet but my feelings were as bleak as Whernside, looming ahead under a dark threatening sky.
Ribblehead finally. Usually, this is major lift but today I felt nothing. The climb past the Station Inn was awful, power beginning to fade. The headwind was there, not strong, but enough. Holding on to the Chapel-le-Dale descent was my only thought now.
That brief rest lead onto the final challenge. With a tail wind, as in most of my previous rides, this section is a joy to ride, a place to blow out the last remaining energy and revel in the speed on the gently rolling climb. This time it was grim! Summit after summit, no end in sight and a near black sky to complete the picture.
Incredibly, it came to an end. The final descent at last, one last final burst of power past the chequerboard.
The rain that had threatened suddenly came on. My race was over but I pitied the three or so riders behind me. It was only a couple of minutes back to the HQ but enough to be completely drenched.
And so, my account on Ingleborough is closed: eight rides, eight podium positions and two wins. I'm very happy with that.
A Final Word…
It was great to see so many younger riders at this year's event. I don't want to put future riders off with my reports of suffering! Be assured – many riders, maybe most, don't experience Ingleborough the way I do. It is particuilarly tough for me as I'm best when it comes to delivery steady power over extended durations completely the opposite of Ingleborough. If any of the other PF riders want to contribute their own race reports, I'll be delighted to add them.
Other Reports
Richard Bideau.
Time trialling has many aspects that can seem obscure to the outsider. One of these is the startline pusher. Thirty seconds before starting, the pusher holds the bike upright so that the rider can get both feet secured in the pedals ready to spring into action as the count reaches zero. This is a vital part of time trialling even today with modern clipless pedal systems. Instead of spending the first few seconds trying to get clipped in at this, one of the most stressful moments, the rider can power away and concentrate on the important business of being fast. At the 2021 CTT National Council meeting there was a proposal to delete the role of the pusher. I was one of the majority of delegates who felt this would be unwise and successfully argued against it.
Here is an account from our pusher on this Ingleborough event, Mick Eccles.
The circuit of Ingleborough a different perspective.
By Mick Eccles.
I've spent many years marshalling at the circuit of Ingleborough, and for me the highlights are twofold. The tea and cakes (homemade) served by Angela and Arlene and the all day breakfast at the sportsman cafe in company with Roger and Alan.
However this year due to Craig being on holiday, I was tasked with pushing off. The first surprise is that I had to walk from the HQ to the start (twenty minutes up hill) not a bad warm up.
I watched on as the two timekeepers synchronised their six watches, well to be sure, to be sure, to be sure. I don't even have a watch.
At 10:02 the first rider failed to trouble the timekeeper, so my services were not required, still plenty more to follow. The ladies were then set off, the first five didn't want pushing off, and I began to think I should change my aftershave or maybe use some. I'm sure I have some Tabac and Blue Stratus left from the seventies. Please be assured the rumours of my unusual technique for pushing off are untrue.
At last a rider who wants to be held up. 'Are you comfortable?'. 'Just a little towards you', 'NOT THAT CLOSE'. 3. 2. 1. good luck.
Ninety percent of ladies didn't want a push, ninety percent of the men did, some to the top of the fist rise.I must now apologise to number 32 who I pushed him off retained a piece of his saddle in my hand.
Another revelation to me was the various regime riders go through. Two actually stood up out of the saddle and went off like a cork leaving a wine bottle. I think this approach is a little over zealous as the first mile is uphill. Some fiddle with various components, some shake nervously, others hyperventilate, some are calm and chatty but to a man they all set their Garmins to run with five seconds to go. Almost all thank you for running the event. Pushing off was a real pleasure as it was 15 degrees and fine with light winds, I was down my tee shirt by the end.
One drawback I have found is that you end up with your right leg covered in embrocation and various oils, and I'm now convinced that a fire extinguisher should be available at the start as many of these creams smell highly flammable.
Thanks to all who rode, without you we wouldn't have an event. Next year I'll be back pointing the way on some corner and next Saturday I'll be back out on my tandem, maybe one day I'll find someone brave enough to take up the rear saddle, enjoy your season, best wishes.