Meeting at the usual spot: (at the bottom of Walton Lane, Leeds Road, Nelson). Map Saturdays (for Saturday runs itinerary see table below) Wednesdays at 7.00pm (usual spot again)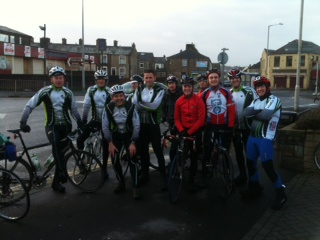 Chippy Run
Monday evenings meet at Higherford Bus turn around, 5.45pm for a ride to Settle where we have Fish and Chips (not compulsory) before riding home. Distance is approx 40 mls average speed tends to be 15mph. Lights are required.
Chain Gang
Fast training run from the North Valley, Colne. Tuesday evenings 6.30pm. Average speed in excess of 20mph. Not for the unfit or inexperienced.
Social Run
Wednesday evenings leave  Walton Lane, 7pm (prompt) for a ride at social pace 13 / 14 mph around 25miles. Usually wind up at the Lord Rodney, Colne at about 9pm for a beer or two. Lights are required.
Evening League
Thursday evening time trial series. See Evening League page.

Saturday Run
See the list bellow for destinations. Most runs leave Walton Lane at the time shown (prompt) however on occasion we will drive to a different meet point to get on some different roads. Average speeds tend to be around 15mph.
Saturday Runs List
| | | |
| --- | --- | --- |
| Date | Destination | Time |
| 9th Nov | Settle Loop via Whalley | 9:30 AM |
| 16th Nov | Burnsall Via Addingham | 9:30 AM |
| 23rd Nov | Longridge Loop | 9:30 AM |
| 30th Nov | Fizor Via Attermire | 9:30 AM |
| 7th Dec | Clapham Via Lime Kilns | 9:30 AM |
| 14th Dec | Burnsall Via Adingham | 9:30 AM |
| 21st Dec | Waddington and Back Via Pub | 9:30 AM |
| 28th Dec | Impromtu | 9:30 AM |
| 4th Jan | New Year 100, Fleetwood | 8:00 AM |
| 11th Jan | Otley Via Ilkley Moor | 9:30 AM |
| 18th Jan | Kilnsey Trout Farm Via Halton Gill | 9:30 AM |
| 25th Jan | Settle Via Tosside | 9:30 AM |